France launches new action plan on pollinators, both domestic and wild
At the end of 2021, Promote Pollinators member France launched a national action plan to protect both wild and domestic pollinators. Michel Perret works at the Ministry of the Ecological Transition and is responsible for the implementation of the plan, which will run until 2026.  
France's national action plan is divided into six thematic axes:  
Knowledge acquisition and research;

Agriculture and forestry;

Other sectors (including urbanisation and infrastructure, protected areas);

Sanitary aspects (disease and invasive species);

The use of phytosanitary products;

Sharing of agricultural practices favourable to pollinators.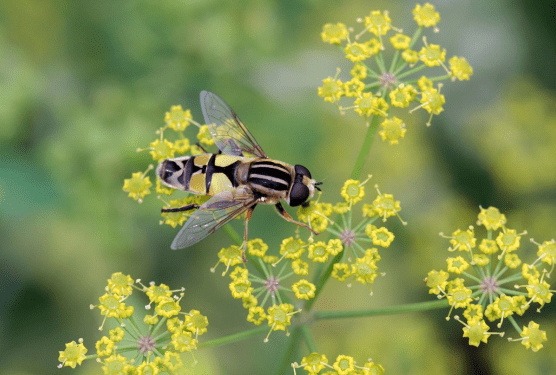 Red list
The first axis focuses on filling gaps in the knowledge on pollinators. "We need to know the status of specific pollinators in order to complete national red lists on several taxonomic groups of pollinators (wild bees, Syrphidae, in particular)," says Mr Perret. "We also want to improve our understanding of the threats and pressures on the ecosystem services delivered by pollinators. The budget required for this axis is estimated at more than 15 million euros."  
Modern-day agriculture
Farmers depend on pollinators for their crops, so it is in their own interest to protect pollinators; in the meantime, agricultural practices are crucial for the conservation of pollinators, both domestic and wild. Mr Perret: "We need to integrate the biological needs of pollinators in modern agriculture. We have to find new solutions, and promote efficient practices to restore the diversity of pollinators in agricultural landscapes. For that, we aim to create a win-win situation for farmers."  
The built environment
The third axis concentrates on the protection of pollinators in sectors other than agriculture and forestry. This includes the (urban) built environment and infrastructure, such as roads and railways. The goal is to create more habitats by doubling the surface area for pollinators in these sectors. "We need to take into account pollinators in the planning of cities," says Mr Perret. "We need to avoid, reduce and offset the impact of urbanisation. We need also to improve our knowledge, for example to understand the consequences of light pollution on pollinators." Furthermore, Mr Perret emphasises the importance of common biodiversity in towns and cities. 
Disease and the use of phytosanitary products
The fourth and fifth axes of the plan focus on sanitary aspects and the use of phytosanitary products, respectively. Pollinators may be affected by disease, and both wild and domestic pollinators can pass on diseases each other. Invasive species may also have an effect on local pollinators.  
France already has a national decree regarding the use of phytosanitary products to prevent the potential effects of these products on pollinators; the revision of this decree that improves the protection of pollinators has been published at the same time as the new action plan. Mr Perret: "It is also important that our rules align with those at the European level. Improvement in the protection of pollinators on the whole European territory is also a key issue."  
Favourable practices
The sixth and final axis is related to the sharing of favourable practices in agriculture. "We need to involve fully the agricultural sector in our plans," says Mr Perret. "The focus is on sharing favourable practices at the national and regional levels in order to widely spread these practices."  
Monitoring
Mr Perret emphasises the importance of monitoring the actions related to this plan. "We need to use indicators to visualise our progress. We need to keep an eye on the effects of our actions, to check that we are doing the right thing efficiently and to make sure all the stakeholders stay involved."  
Through Promote Pollinators, France also wants to share good practices with other countries working to protect pollinators. Mr Perret: "It is important to be involved at the international level, and to share our experiences."  
(Photo: OPIE – Mouche Helophile-Barbara Mai-Observateur Spipoll)