Trinidad & Tobago joins Promote Pollinators
The Government of the Republic of Trinidad and Tobago proudly announces its membership in the Coalition of the Willing on Pollinators, reaffirming its strong commitment to preserving the invaluable pollinator species that contribute significantly to the nation's biodiversity and food security. Trinidad and Tobago now stands as the 32nd partner in this worldwide endeavour to recognise and safeguard these often-underappreciated species.
The declaration cementing this commitment was signed on the 15th September 2023 by Trinidad and Tobago's Minister of Planning and Development, the Honourable Pennelope Beckles. This historic moment highlights Trinidad and Tobago's dedication to taking proactive steps towards the protection and sustenance of pollinators.
In tandem with this decision, the Environmental Policy and Planning Division of the Ministry of Planning and Development, together with the Biodiversity and Ecosystem Services Network Trinidad and Tobago (BES-Net TT) project organised a three-day workshop facilitated by representatives from Promote Pollinators, the Coalition of the Willing on Pollinators, and Naturalis Biodiversity Center. This workshop on the development of a Theory of Change for a National Pollinator Strategy provided an essential platform for government officials and non-governmental stakeholders to collaboratively draft a roadmap for the harmonious coexistence, widespread awareness, valuation, and collective management of pollinators in Trinidad and Tobago.
The draft Theory of Change serves as a strategic framework outlining key actions that will align our country with the goals of safeguarding pollinators, sustaining our rich biodiversity, and ensuring food security for generations to come.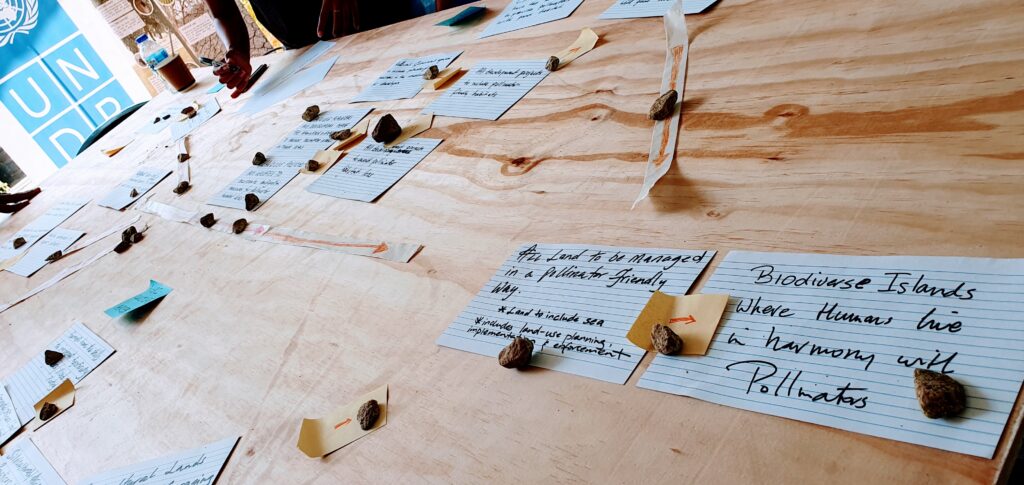 Concurrently, the Ministry of Planning and Development, with the invaluable support of the United Nations Development Programme (UNDP), is actively implementing the Biodiversity and Ecosystem Services Network Trinidad and Tobago (BES-Net TT) project. This local initiative is at the forefront of research, public awareness campaigns, and policy recommendations related to pollinators. The Theory of Change workshop and the signing of the Coalition of the Willing declaration complement the objectives of the BES-Net TT project and strengthen Trinidad and Tobago's commitment to the protection and enhancement of its vital pollinator populations.
The Government of Trinidad and Tobago extends its heartfelt appreciation to all local and international stakeholders for their unwavering support and collaboration in this pivotal endeavour. Together, we look forward to a future where pollinators continue to thrive, enriching our natural environment and ensuring our nation's prosperity.