Signing of the Declaration on the Coalition of the Willing on Pollinators
A small but important step on CoP 13 on Biological Diversity
Perhaps not of the biggest international political importance, but one of the highlights of the Conference of the Parties on Biodiversity was the set up and signing of the Declaration on the Coalition of the Willing on Pollinators. Thirteen countries signed in Mexico and many countries, organisations and businesses want to join. "The declaration is a good start in worldwide protection of pollinators since they are not bind by borders", one of the signatories declared.
Two weeks the world of biodiversity gathered in Cancun, Mexico. More than 10.000 people from 130 countries joined to discuss nature, biodiversity, ecosystems and services they offer, the decline, the urgency of action, financial possibilities, hurdles and chances. The thirteenth CoP ended the 18th of December. The declaration can be one of the tools that give action perspective.
Pollinators play a key role in the conservation of biological diversity, ecosystems, food production and the global economy. The coalition believes that country-led politics can foster policy measures and innovative action on protecting pollinators.
Biodiversity
The initiative to form a coalition was taken by the Ministry of Economic affairs of the Netherlands and was warmly welcomed by Anne Larigauderie, Executive Secretary for the Intergovernmental Platform on Biodiversity and Ecosystem Services (IPBES). She said: "Explicitly informed by the IPBES Assessment, this new grouping of countries has formally committed to take national action to protect pollinators and their habitats, and to develop, facilitate and implement pollinator strategies, consistent with the IPBES Assessment. I was honoured to join, among others, Ministers from Denmark, Luxembourg and France, as well as senior officials from a range of other countries for this signing ceremony. The formation of the Coalition represents the importance of the work IPBES is undertaking – and the value of science-led policy."
The coalition of the Willing on Pollinators commit to:
take action to protect pollinators and their habitats by developing and implementing national pollinator strategies;
share experience and lessons learnt in developing and implementing national pollinator strategies, especially knowledge on new approaches, innovations and best practices;
reach out to seek collaboration with a broad spectrum of stakeholders – countries as well as businesses, NGO's, farmers, local communities;
develop research on pollinator conservation;
Mutually support and collaborate with each other – and those parties that are willing to join the coalition.
Photos of the signing

From left to right: 1: Barbara Kosak (Germany); 2: Clare Hamilton (UK); 3: Elsa Nickel (Germany); 4: Margriet Leemhuis (the Netherlands); 5: Barbara Pompili (France); 6: Ines Verleye (Belgium); 7: Anne Larigauderie (Executive Secretary IPBES)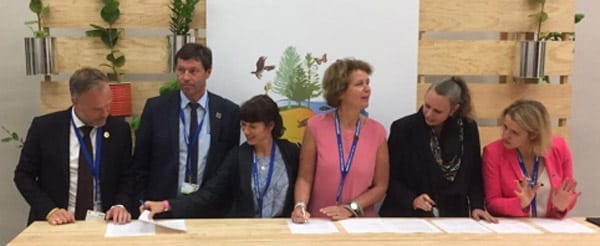 From left to right: 1: Hendrik Hedemann Olsen (Denmark); 2: Gunther Liebel (Austria); 3:Marina von Weissenberg (Finland); 4: Margriet Leemhuis (The Netherlands); 5: Carole Dieschbourg (Luxembourg); 6: Barbara Pompili (France);