Fruitful thematic session on Agricultural Innovations in Estonia
On 12 June, his Majesty, King Willem-Alexander of the Netherlands made a state visit to the Republic of Estonia, by invitation of the Estonian president Kersti Kaljulaid. At the same time, a trade programme took place to strengthen economic ties. Estonia has great expertise and experience in the field of digitization, and one of the programmes tackled the theme of digital innovation in agriculture. The minister of agriculture, nature and food quality of the Netherlands, Carola Schouten, was present for this occasion. On the 13th of June she signed a Memorandum of Understanding about structural bilateral cooperation between governments in the field of digital innovation and a sustainable use of natural resources in agriculture.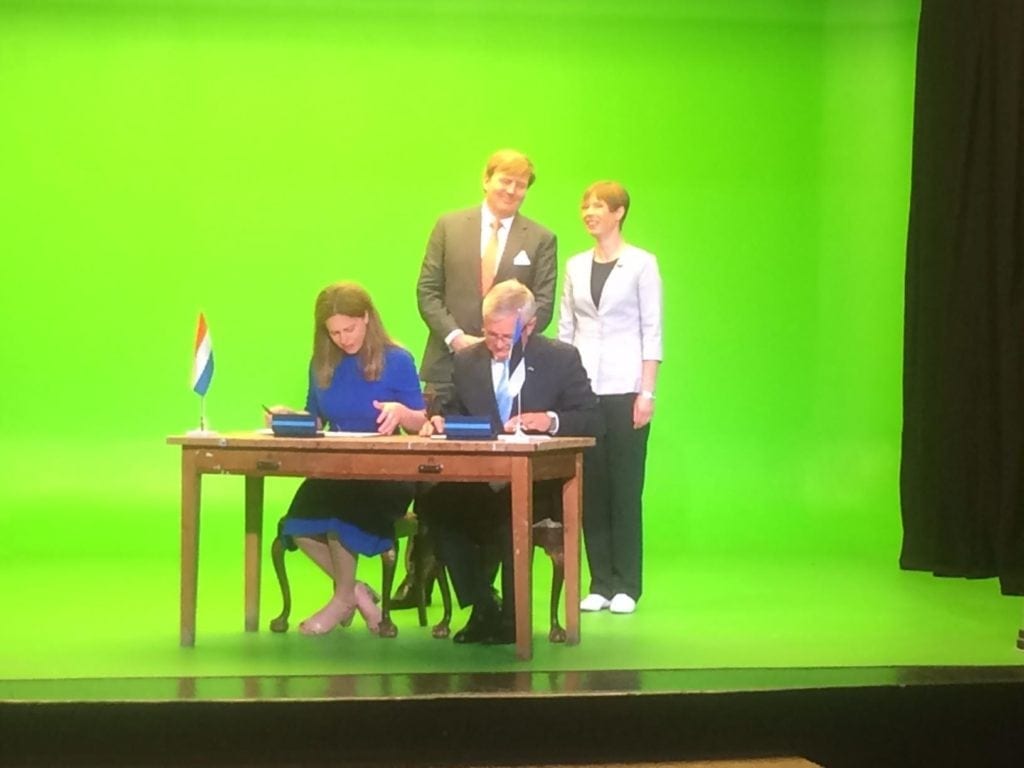 Minister Carola Schouten (NL) and minister Tarmo Tamm (ES) sign the Declaration of Understanding. Behind them are the King of the Netherlands and the Estonian prime minister.
Hackathon
In the build-up to the state visit, Estonia organized a data/ICT-hackathon* to address agricultural ICT challenges. As a challenge for the hackathon, the Netherlands suggested examining possibilities for realizing better spatial conditions for bees and insects  in view of the worldwide decline of pollinators. This theme connects to the National Pollinator Strategy of the Netherlands, which was published last January.   
During the event, minister Schouten confirmed her wish to explore, together  with other parties in the field, how the use of big data may contribute to the goals of all partners and therefore to the main aim of the National Pollinator Strategy. For example, the creation of an app to support and monitor specific target groups is one of the initial ideas.
Ideas to tackle the threat to pollinators
Three themes of the hackathon can be directly linked to the threat to pollinators currently faced:
Efforts have been made to develop of a prototype which helps locate the most favourable places to install beehives.

The development of BUZZ-UP, a tool which measures stresslevels and health of bee-populations in hives by the frequency of their buzzing, has started.

An exploration has been started  of the possibility to create a data platform which uses remote-sensing data to classify crops and recognize pastures rich in herbs, along with research into the possibilities of use for other parties.
And the winner is…
The hackathon winner is the aforementioned data platform, developed by a Dutch startup and supported by Estonian participants: Birds AI – Estonia.
Estonia has been invited by The Netherlands to join the Coalition of the Willing, to which they responded with interest. To be continued…
* A coding event also known as hack fest, where developers gather to create or improve a product.